Brad Garrett's roots are in standup comedy. He has headlined at Bally's Park Place and co-headlined with the Temptations at Trump Plaza. He has also worked at the Sands with Frank Sinatra, Caesar's Palace with David Copperfield, Diana Ross and Smokey Robinson, Harrah's with Sammy Davis, Jr., and the Beach Boys, and Radio City Music Hall with Julio Iglesias.
Garrett's role in "Everybody Loves Raymond" earned him the 2002 and 2003 Emmy Awards for "Best Supporting Actor in a Comedy Series." He was nominated for an Emmy Award in the same category in 2000 and 2004. He won the 2003 Screen Actors Guild Award for "Outstanding Performance by an Ensemble in a Comedy Series."
Garrett's voice-over work includes the roles of Fatso, the ghost in teh 1995 feature "Casper," Dim, the rhinoceros beetle in "A Bug's Life" and Bloat, the blowfish in "Finding Nemo." He has also appeared in "Don King: Only in America," "George B" – which was a finalist at the 1997 Sundance Film Festival – "Suicide Kings, Clubland," and "Sweet and Lowdown." Garrett has also guest-hosted CBS's "Late Show" for a sidelined David Letterman.
In 2002, Garret played Jackie Gleason in the critically acclaimed CBS movie, "Gleason," for which he earned an Emmy Award nomination and Screen Actors Guild Award nomination for "Outstanding Actor in a Movie or Miniseries." He also appeared in the Disney feature, "The Pacifier," and in the independent feature, "The Moguls."
Brad is currently producer and star of the FOX comedy series "Til Death."
Born in Woodland Hills, California, his birth date is April 14.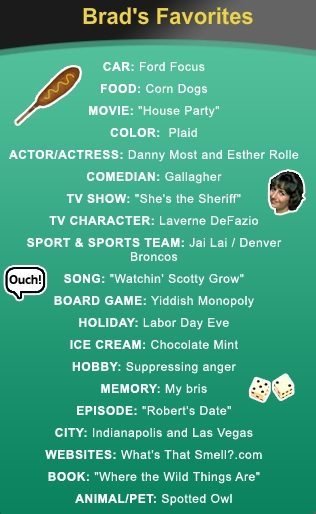 Average rating:
0 reviews