For her role in "Everybody Loves Raymond," Patricia Heaton received both the 2000 and 2001 Emmy Award for "Outstanding Lead Actress in a Comedy Series." She was nominated for a 1999, 2002, 2003, and 2004 Emmy Award in the same category. She won the 1998-99 Viewers for Quality Television "Best Actress in a Quality Comedy" Award. She was nominated for a People's Choice Award for "Favorite Female Television Performer" in 2003. She was nominated for the 2002 Screen Actors Guild Award for "Outstanding Performance by a Female Actor in a Television Series," and won the 2003 Screen Actors Guild Award for "Outstanding Performance by an Ensemble in a Comedy Series."
While studying in New York with drama teacher William Esper, Heaton made her Broadway debut in the gospel musical "Don't Get God Started." She and fellow students then formed State Three, an acting company that produced plays off Broadway. They took one production, "The Johnstown Vindicator," to Los Angeles, where Heaton's performance caught the eyes of casting directors.
Patricia appeared in the Neil Simon remake of "The Goodbye Girl." Her other credits include the series "Room for Two" as well as "Women of the House," "Someone Like Me" and "thirtysomething," in which she had a recurring role. Among her television film credits are "Miracle in the Woods" and "A Town without Christmas," both on CBS. Her feature film credits include "Memoirs of an Invisible Man," "Beethoven," "New Age" and "Space Jam."
Her book, Motherhood and Hollywood: How to get a Job like Mine, was published in September 2002.
Patricia is currently the star of the FOX comedy series "Back to You."
Patricia was born in Cleveland and lives with her husband and four sons in Los Angeles. Her birth date is March 4.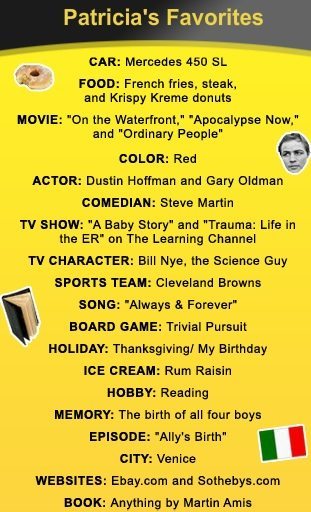 Related Resources:
Visit CultSirens.com for profiles and pictures of Hollywood beauties.