Multiple award-winning actress Doris Roberts has distinguished herself with her versatility on Broadway and in numerous film and television roles. She starred on Broadway in "The Death of Bessie Smith," "Marathon '33," "The Desk Set," "Last of the Red Hot Lovers," "Cheaters," "The Secret Affairs of Mildred Wild" and "Bad Habits," for which she won the Outer Critics Circle Award. She most recently appeared on Broadway in "Thoroughly Modern Millie."
Her more than 27 feature film credits include "My Giant," "The Grass Harp," "Little Murders," "Used People," "National Lampoon's Christmas Vacation," "No way to Treat a Lady," "The Honeymoon Killers," "A New Leaf," "The Heartbreak Kid," "Hester Street," "The Rose," "Such Good Friends," "The Night We Never Met" and "All Over the Girl." Among her television film credits are "The Diary of Anne Frank," "It Happened One Christmas," "Ruby and Oswald," "A Time to Heal" and, on CBS, "1,000 Men and a Baby," "One True Lvoe" and "Sons of Mistletoe." In addition, Roberts recently starred in the CBS television movie, "Raising Waylon," as well as the critically acclaimed cable film, "A Time to Remember."
Nominated for 11 Emmy Awards, Roberts has won three consecutive Emmy Awards for "Outstanding Supporting Actress in a Comedy Series" for "Everybody Loves Raymond," in 2001, 2002 and 2003. She was also nominated in 1999, 2000 and 2004. She also won an Emmy Award for a guest-starring role in "St. Elsewhere" and was nominated for an Emmy for "Remington Steele." She earned three Viewers for Quality Television Awards for "Best Supporting Actress in a Quality Comedy," the 1999 American Comedy Award for "Funniest Supporting Female Performer in a TV Series" and the 2001 TV Guide Award for "Best Supporting Actress in a Comedy Series." She won the 2002 Golden Satellite Award for "Actress in a Series, Comedy or Musical." She was nominated for the 2002 American Film Institute Award for "Best Actress in a Comedy Series" and won the 2003 Screen Actors Guild Award for "Outstanding Performance by an Ensemble in a Comedy Series."
Roberts' memoir, Are You Hungry, Dear? was published in 2003 and hit the New York Times best seller list shortly after its debut.
Doris has been appointed a cultural ambassador by the U.S. State Department, which sends her to underprivileged countries to speak to young people about hope.
Doris was born in St. Louis and lives in Los Angeles. Her birth date is Nov. 4.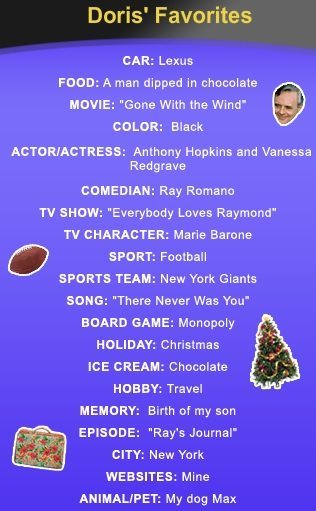 Average rating:
0 reviews